As Australia enters the festive season, Google has enforced a blanket ban of medical abortion ads across the country.
MSI Australia receives more than 160,000 calls each year, with 3 in 4 seeking health information and support.
MSI Australia Managing Director Jamal Hakim said Google's ban was misinterpreting Australian law and regulations.
"It's like Groundhog Day, Google has yet again enforced a blanket ban of abortion campaigns in Australia," he said.
"We are sick and tired of advertising policies being misinterpreted and restricting the ability of people to find accurate and compassionate information about abortion.
"Abortion is legal in Australia but it is not easily accessible.
"Google's ban is restricting abortion access.
"Abortion is not readily available in public hospitals and it is difficult to find abortion service providers due to historical stigma.
"When Google bans promoting health information about abortion, anti-choice organisations ads often run in place, providing inaccurate information and unsupportive traumatising advice.
"We want to see this resolved as quickly as possible."
Just two weeks ago Google ran ads framing abortion as 'killing innocent children', which were later removed.
MSI Australia Director of Nursing and Head of Risk and Safety Fiona Gerrard said this would be impacting women and pregnant people by delaying their ability to access abortion care.
"We stand for abortion access and equity. Our services provide women and pregnant people with a supportive, compassionate and confidential environment to discuss their pregnancy options," she said.
"We assist people in deciding what procedure is suitable, depending on health history, personal preferences and their pregnancy details.
"We deliver a large portion of abortion services in Australia, so this ban will mean women and pregnant people are presenting late, at increased cost and possibly not be able to be seen in some circumstances.
"This is likely impacting between 700 to 1500 people per week across all providers across the country.
"The week before Christmas is a highly problematic time and will create a bottleneck on health waitlists."
Google enforced a blanket ban on MSI Australia ads from December 3.
Australian law states medicines should not be advertised to consumers directly but it does not prevent the advertising of a health service or procedure which is what medical abortion is. Google incorrectly banned abortion ads in 2019, see this ABC story and this Guardian story.
– Ends –
For further information contact Anna Jabour on 0428 396 391.
MSI Australia is the only national not-for-profit provider of sexual and reproductive health services including permanent and long-acting reversible contraception and abortion care. For more information on our clinic network visit msiaustralia.org.au
Background
MSI ad banned with the reason abortion not allowed in Australia: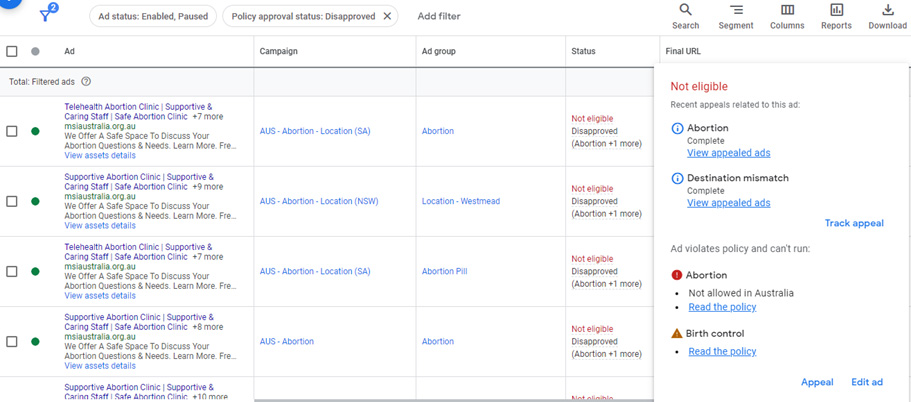 Anti-choice ad allowed to run: